Greeting
To become professional for high-mix low-volume production
Diversity is required for many fields recently
For automobiles, users' demand is also quite various and
 it is important task how optimize product development.
For the standpoint of professional maker of exhaust system
and exhaust emission treatment system, we propose total process from
 development to product with the motto,
"high-mix low-volume production" to our clients.
Exhaust system is compilation of system technology including  sound, heat, vibration
and environment technology. Based on long history of experience and basic technology,
 we'll create further value.
From now on, we highly cherish customer satisfaction rather than just sales, so your considerable support is very appreciated.
CEO Hidetada Takama
Outline
Company Name
NISSIN KOGYO Co., Ltd
Head office/Kanagawa factory
172 Kamisoyagi Yamato-city Kanagawa 242-0029
Phone:046 (264) 1221 /Fax:046 (262) 3403
(Exhaust pipe, silencer)
 ground 16,581m2 bldg. 8,045m2
Tsuruma factory
565 Kamisoyagi Yamato-city Kanagawa 242-0029
Phone: 046 (261) 4340/ Fax:046 (262) 2663
(Exhaust gas purifier, silencer, shift lever)
 ground 10,284m2 bldg. 6,762m2
Tochigi factory
1941-1 Maganoshima Iwafunemachi
Tochigi-shi Tochigi 329-4306
phone: 0282 (55) 1760 / Fax:0282 (55) 5280
(Exhaust gas purification device, large silencer, exhaust pipe)
 ground 28,461m2 bldg. 11,729m2
Technical Center
1941-1 Maganoshima Iwafunemachi
Tochigi-shi Tochigi 329-4306
Phone:0282 (55) 6986 / Fax:0282 (55) 6987
(Development of exhaust system)
 (In Tochigi factory) bldg. 1,749m2
CEO
Hidetada Takama
Employees
658 people (As of the end of March 2022)
Company Establishment
1959/Dec
Capital
162 million yen
Business

Manufacturing automobile parts

Customers

Isuzu Motors Limited.
Mitsubishi Heavy Industries
Hino Motors, Ltd.
Caterpillar Japan Ltd.
Nissan Motor Co., Ltd.
Komatsu Ltd.
Marelli Corporation

Hitachi Construction Machinery Co., Ltd.
Corporate history
| | |
| --- | --- |
| 1959/Dec | Company established with capital of 9 million yen(timely capital increases have occurred since this date) |
| 1960/May | Factory construction (currently: Tsuruma factory) |
| 1965/Oct | Laboratory construction(at Tsuruma factory) |
| 1968/Aug | Acquisition of Yamato factory, and factory construction |
| 1973/Mar | Laboratory construction(Yamato factory) |
| 1977/Jul | New office construction(Yamato factory) and transition of head office to that factory |
| 1979/Apr | Increased capital to 162 million yen |
| 1984/Apr | Tochigi factory construction – first to third period (December 2000) |
| 1988/Dec | Technical cooperation with BTE Company in Thailand |
| 1992/May | Technical centre completed |
| 2002/Sep | ISO9001 and QS9000 certificates acquired |
| 2004/Jun | ISO14001 certificate acquired |
| 2005/Nov |  Press building constructed in Tochigi factory |
| 2006/Oct | ISO/TS16949 certificate acquired |
| 2014/Jan | Established new joint venture company (NSBT) in Thailand alongside BTE Company |
| 2015/Oct | Established new joint venture company (CNI) in Indonesia with CSI Company |
| 2017/Oct | IATF16949 certificate acquired |
| 2018/Dec | Selected by METI as a Regional Future Leader |
Overseas Operating Bases
NISSIN-BT(THAILAND) CO.,LTD   TEL (66) 37-218-441/442 
134 Moo 6, Tambol Sri Maha Phot, Amphur Sri Maha Phot, Prachinburi 25140 Thailand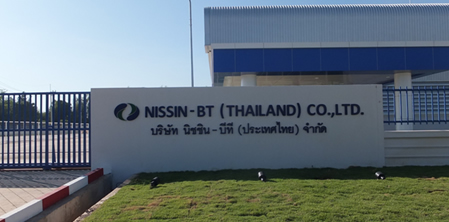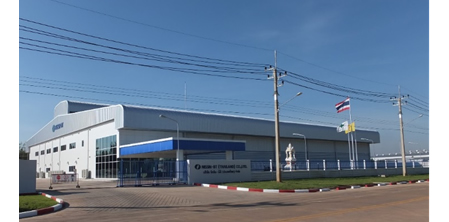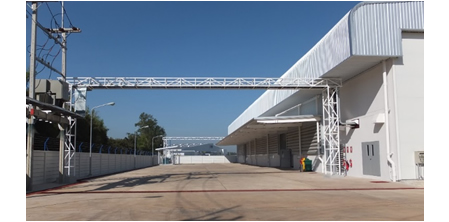 PT. CIPTA NISSIN INDUSTRIES    TEL (62-21) 460-0942 
 Jl. Raya Bekasi Km. 23, Cakung, Jakarta 13930 Indonesia, PO. Box 1337/JAT
http://cni.theciptagroup.co.id/
Overseas Technology Assistance Company
B.T.ENGINEERING CO.,LTD. (Thai)                 
Environmental practice
Policy
To create comfortable natural environment and hand over to next generation, business activity should contribute harmony of natural balance and social benefit.
Objective
In business activity, each employees recognize importance of harmony of environment and business activity 
Following articles are important items to continuous improvement and prevention of contamination
(1)resource and energy saving (2)reduction of waste (3) recycle
Complying with laws and rules agreed by company about environment, including client request
Set up environmental goal and achieve. Reduce waste and maintain management system. 
Inform policy to all employees and partners also disclose if requested.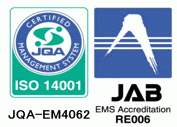 Quality reliability
Quality policy
Always provide good and reasonable goods for customer satisfaction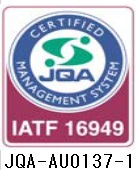 approval/prize list
Name
Organization
Date

IATF16949
Management System Registration Certificate

(Foundation) Japan Quality Assurance Organization
27 October 2017

ISO14001
Management System Registration Certificate

(Foundation) Japan Quality Assurance Organization
11 June 2004
Regional Future Leader Selection Certificate
Ministry of Economy, Trade and Industry
25 December 2018